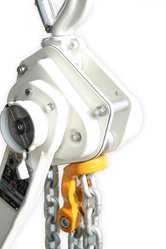 Sub Sea Lever Hoist

The SS11 has been designed and developed over a number of years for use primarily in the Subsea environment. The design and anti-corrosion features incorporated in the SS11 hoist range give it significant safety advantages over standard lever hoists, making the hoist the ideal tool for all Marine and extreme applications.
Developed initially with the goal of giving key stakeholders within the Oil and Gas Industry a hoist that could be certified for safe use Subsea whilst meeting all the requirements of IMCA DO28 Rev. 1 "Guidance notes for offshore lever hoists", the SS11 meets and exceeds these requirements, as well as conforming to standards such as BS EN 13157:2004+A1:2009, ANSI/ASME B30.21, AS1418.2 and SANS 1636.
The SS11 has our new Patent protected brake pawl design that ensures there is constant engagement of the ratchet brake whilst still allowing for the free-wheeling facility to position the load chain.
With over 50 years of professional manufacturing experience, Tiger's commitment to innovation and customer satisfaction mean we will continue to develop and improve our products by communicating and working with our customers. The SS11 range of Subsea lever hoists is evidence of this practice.
Now available with slipping clutch overload protection
Proven track record
Meets and exceeds IMCA DO28 Rev 1 guidance notes for offshore lever hoists
Anti-corrosive protection to ensure reliable long term use
Brake chamber protection from outside contamination
-40°C to +50°C Operating temperature range
Meets or exceeds all international standards
Range from 800kg – 10000kg
Double switch brake mechanism
Light load protection at 2% of the rated capacity
*NEW* external corrosion protection
High performance premium grease
*NEW* adjustable chain end anchorage
*NEW* Twin Cam shaped pawl design
Marine specific friction discs
No requirement for preload tension to activate the ratchet mechanism
Adaptable to use both inverted and horizontally
Stainless steel fixings and fasteners
Also available with stainless steel load chain or spark resistant hooks
HIRE THIS PRODUCT