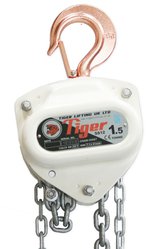 Corrosion Resistant Chain Blocks

The SS12 is the ideal block for salt water use with less maintenance and servicing costs.
The SS12 is manufactured from the highest quality steel materials,offering a lightweight, compact and rugged construction, producing an exceptionally strong product resistant to impact damage. With the added advantages of having been fully protected against corrosion using Tigers OCP "Organic Corrosion Protection" formula that gives over 1000 hours continuous protection under ASTM B117 Salt spray conditions.
The exceptional short head room allows for easy installation where every centimetre must be achieved. Using only the highest quality materials precisely machined in our own factory. These units meet and exceed all the requirements within BS EN 13157:2004, ANSI/ASME B30.21-2005, AS1418.2 and SANS 1636.
Main Features

Fully Corrosion protected body and components
Corrosion protected load and handchain
Lightweight and portable
Stainless steel fixings and fasteners
Heat treated alloy steel triple spur gears and pinion shaft
Can be chained to any height of lift to meet your exact requirements
Also available with stainless steel load chain or spark resistant hooks
Range from 500kg – 20000kg
Marine specific friction discs
Double cover protection for brake chamber
Safe reliable twin pawl mechanical brake
-40°C to +50°C Operating temperature range
Marine chain bags available on request
Meets or exceeds all international standards
Over 1000 hours continuous protection
Rugged steel body construction
Drop forged & heat treated alloy hooks
Guaranteed 2% light load protection
Proof tested to 1.5 times rated capacity
Individual spares readily available
HIRE THIS PRODUCT