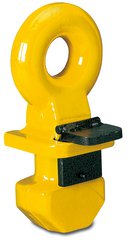 Top Container Lifting Lugs (CLT)

These container lifting lugs are supplied in sets of 4 and have a working load limit up to 56 tonne. The Top Container Lifting Lugs (CLT) serve as flexible lashing points for the transportation of containers.
The CLT type is vertically mounted in the hole at the top of the container and is locked into place by simply turning the lug 90º. This configuration allows for transportation via the use of a lifting frame, in conjunction with wire ropes, chains or slings.
HIRE THIS PRODUCT