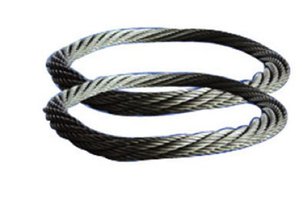 Wire Rope Grommet

An endless cable laid grommets is the manufacture of a continuous length of wire rope with a steel core formed to make a body composed of six outer ropes around the core.
The rope ends of a cable-laid grommet are tucked into the body forming the core with the truck position opposite to the core butt position.
The final resulting sling is an endless wire rope sling with no visible join. The length of the grommet circumference shall be at least five times the grommet lay length, the core butt position shall be clearly marked red.
At this point the grommet should never be loaded or bent. This variation of slings has many merits, i.e. the capability of the sling is very flexible and easier to sling.
Wire rope Grommets can be made to 1000te capacity
Very long lengths can be made up
Ideal for heavy lifts
HIRE THIS PRODUCT