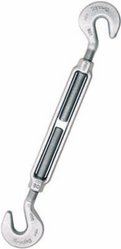 HG-223 Hook & Hook Turnbuckles

HG-223 Hook & Hook Turnbuckles
End fittings are Quenched and Tempered or Normalized, bodies heat treated by normalizing.
Hot Dip galvanized steel.
Hooks are forged with a greater cross sectional area that results in a stronger hook with better fatigue properties.
Meets or exceeds all requirements of ASME B30.26 including identification, ductility, design factor, proof load and temperature requirements. Importantly, these turnbuckles meet other critical performance requirements including fatigue life, impact properties and material traceability, not addressed by ASME B30.26.
TURNBUCKLES RECOMMENDED FOR STRAIGHT OR IN-LINE PULL ONLY.
Modified UNJ thread on end fittings for improved fatigue properties.
Body has UNC threads.
Lock Nuts available for all sizes.
Fatigue Rated.
HIRE THIS PRODUCT