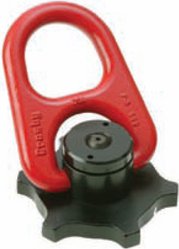 HR-500 Trench Plate Hoist Ring

HR-500 Trench Plate Hoist Ring
Designed to simplify the lifting and placement of steel plates used to cover trenches in streets.
Provides a standard fitting to be used in place of products not designed for trench cover applications.
Capacities of 2.27, 4.54 & 6.82t for plate thicknesses of 19mm to 38mm.
Detailed welding instructions included with every hoist ring.
Forged bail provides the following:

Easily readable "Raised Lettering" showing the name Crosby or "CG" and PIC code for material traceability.
More durability provides the increased "Toughness" desired in potentially abusive field conditions.

180 degree pivot and 360 degree rotation at full capacity.
Design Factor of 5 to 1.
Individually Proof Tested to 2-1/2 times Working Load Limit.
All sizes are RFID EQUIPPED.
HIRE THIS PRODUCT