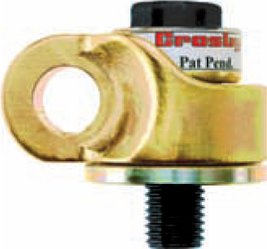 HR-1200 - Side Pull Swivel Hoist Ring - UNC

HR-1200 - Side Pull Swivel Hoist Ring - UNC
Wide range of capacities available:

650 lbs. to 29.000 lbs.
Metric sizes from 300 kg. to 13.000 kg.

Body components are Alloy Steel - Quenched and Tempered.
Rated at 100% of Working Load Limit for angles up to 90 degrees.
Each product is stamped with a Product Identification Code (PIC), for material traceability, along with a Working Load Limit, and the name Crosby or "CG".
Hoist Ring body is furnished with Yellow Chromate finish for improved corrosion resistance.
Utilize standard Crosby Red Pin

®

Shackles to connect to wire rope or
synthetic slings. (sold separately)
Multiple bolt lengths available to meet specific application requirements.
Individually Proof Tested to 2-1/2 times Working Load Limit.
All sizes are RFID EQUIPPED.
HIRE THIS PRODUCT