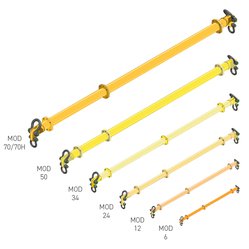 Modulift Spreader Beams

Modulift offer a wide range of Modular Spreader Beam components, offering a variety of different spans for all your lifting needs.
The sizes range from 2 to 5,000t with spans available from 0.4m / 1'4" - 100m / 300'.
The flexibility of the modular configuration enables our Spreader Beams to be reused time and time again, providing a cost-effective solution.
What Size Beam Do I Need?
Simple! First select the span you require, then select the SWL you need for that span.
HIRE THIS PRODUCT