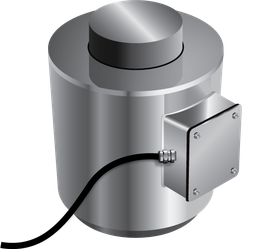 Compression Load Cell

Manufactured in ranges from 1t to 1000t.
Straightpoint compression load cells are manufactured to the same stringent standards as all Straightpoint products. The bodies are machined from high grade Stainless Steel, offering excellent strength and anti-corrosion properties.
Supplied with optional loadcap to protect objects being tested.
The compact lightweight design provides ease of use and superior portability, allowing Straightpoint compression load cells to be used in a broad range of industries to include mining, energy, defence, heavy rigging, shipping, and general transportation sectors.
Utilising the same advanced microprocessor based electronics as all Straightpoint products, Straightpoint's compression loadcells benefit from high sampling rates, extreme resistance to industrial level noise and unprecedented stability. This high stability gives this product over 5000 divisions and the highest standard resolution of any high capacity compression loadcell on the market today.
Like all Straightpoint products, our compression loadcells offer robust construction, advanced electronics, industry leading resolution and accuracy all at a cost-effective, affordable price.
Requires connection to our Handheld Plus or our Desktop controller datalogging software package via the Handheld Plus.
WIRED COMPRESSION FEATURES & BENEFITS:
Compact Size
Stainless Steel Construction
High Accuracy
Lightweight
Peak Hold
Compact Size
Tare
Preset Tare
Audible Set Point Alarm
Reduced Maintenance Cost
Unrivalled Resolution
RS-485 Serial Output
Carry/Storage
HIRE THIS PRODUCT