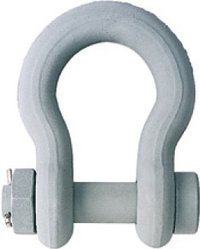 Crosby G-2130CT Cold TUFF Shackle

Bolt Type Anchor shackle with thin head bolt - nut with cotter pin. Meets the performance requirements of Federal Specification RR-C-271E Type IVA, Grade A, Class 3, except for those provisions required of the contractor.
Forged - Quenched and Tempered, with alloy bolt.
G-2130CT - Carbon Steel
G-2140CT - Alloy Steel
Working Load Limit permanently shown on every shackle.
Individually Serialized with Certification.
Fatigue Rated (G-2130CT only).
Shackles 25t and larger are RFID EQUIPPED.
All sizes are individually proof tested to 2.0 times the Working Load Limit.
Finish is Inorganic Zinc Primer or Hot Dipped Galvanized.
Bow and Bolt are Certified to meet charpy impact testing of 42 joules (31 ft-Ibs.) min. ave. at -20 degree C (-4 degree F).
Individually Mag Inspected with certification.
Type Approval and certification in accordance with DNV 2.7-1 Offshore Containers, and Rules for Certification of Lifting Appliances, and are produced in accordance with DNV MSA requirements, including required documents.
COLD TUFF

®

shackles are suitable for use to -50° F.Refer to page 147 for COLD TUFF

®

Master Links and Master Link assemblies.
HIRE THIS PRODUCT