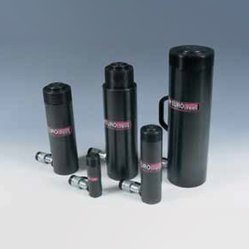 Multi Purpose Spring Return Cylinders

All cylinders have collar threads on the cylinder body and mounting holes in the base. They are supplied with an interchangeable grooved pushing saddle and models above 30 tonne are supplied with a carry handle.
A wiper seal is fitted to models above 5 tonne to prevent the penetration of dirt and to extend cylinder life.
Operational Areas
These cylinders can be operated in any position and are extremely versatile and suitable for different applications, including industrial body shops, steel structural works, presses and special applications.
The nitride treatment gives these cylinders an excellent resistance to corrosion and makes them particularly suitable to operate in the open air or in aggressive environments.
HIRE THIS PRODUCT