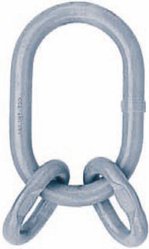 A-1346 - Welded Master Link

A-1346 - Welded Master Link
Ratings below are for use with chain slings fabricated in accordance with ASTM B30.9.
Available in sizes A13 through A45.
Alloy Steel - Quenched and Tempered.
Design Factor of 4 to 1.
Individually Proof Tested to values shown.
Based on DIN 5688, part 3.
Meets or exceed all requirements of ASME B30.26 including identification, ductility, design factor, proof load and temperature requirements. Importantly, these master links meet other critical performance requirements including fatique life, impact properties and material traceability, not addressed by ASME B30.26.
Each link has a Product Identification Code (PIC) for material traceability, along with the size and "CG" stamped into it.
HIRE THIS PRODUCT