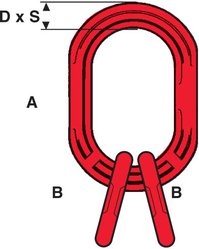 Crosby KUPLEX Litalink KMML

A cost-effective alternative to the KM/KAL assembly for three leg and four leg slings designed for use only under the uniform load method of working load rating for general use. * All welded construction.
All Crosby KUPLEX components have strength characteristics that exceed those of the chain with which they are to be used.
HIRE THIS PRODUCT