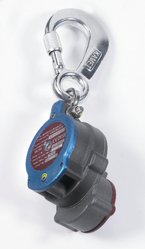 Auto Descent Escape Device

The RGR9 is to be used in conjunction with an escape harness or rescue sling.
It is one of the smallest automatic escape devices in the world.
The RGR9 is a self rescue apparatus by means of which, one or more persons (one after the other) can abseil down at a controlled speed from a higher to lower located level.
The 9mm wrapped-core descent rope needs to be pre-cut to the drop height.
It must only be used as a descent device, NEVER as a fall arrest.
The anchorage point to which the system should be attached must adhere to EN795 (rated to 10kN)
Inspection is required at least every 12 months
Accredited to: EN341 Class A
Cable Spec: 9mm Kernmantle Rope
Weight: 1.1kg
Descent speed: 0.8m/s
Max Load: 150kg
Max Drop Length : 150m
HIRE THIS PRODUCT