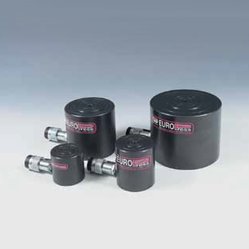 Low Profile Spring Return Cylinders

Low closed height compared to stroke. CMP cylinders have the longest stroke in the spring return pad jack range.
All cylinders have a grooved rod top for improved load grip and there are two threaded holes for mounting a tilt saddle. This is recommended where there is a danger of sideloading. Wiper seals are fitted to prevent the penetration of dirt. Base mounting holes are also available as an optional extra.
Operational Areas
The small dimensions and the complete treatment against corrosion makes these cylinders ideal for all lifting, levelling, support and pressing operations in restricted working areas and/or tough environments.
General maintenance work, industrial assembly and construction are among the most common applications for this type of cylinder."
HIRE THIS PRODUCT