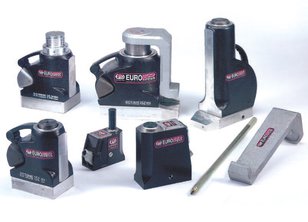 Lightweight Aluminium Jacks

Features
UML are self contained compact lifting units with the capacity to lift up to 100 tonnes. They are portable, efficient and reliable. They are available in three versions:
Standard with plain ram for lifting vertically or pushing horizontally on the front face
Lock ring, with screwed ram and locking collar, an ideal solution to support the load mechanically for long periods
With Claw for conventional load lifting or lifting from very low heights on the claw. These models have extended bases for maximum stability. All models are provided with
A built-in safety valve to prevent overload
A release valve controlled by an operating lever to lift and lower the jack.
A built-in carry handle on models over 15 tons
Applications
Because of their light weight and easy handling, these jacks are particularly versatile and suitable for all many applications in the industrial, civil, ship repair, and railway industries.
HIRE THIS PRODUCT