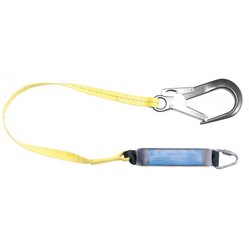 Shock Absorber Web Lanyard

The RGL1 is supplied in two standard lengths: 1.3M and 1.8M

The RGL1 lanyard is an industry standard, and normally the minimum equipment issued with a harness for working at height. the "soft Edge" webbing used in the manufacture provides greater strength, wear and shear resistance compared to other webbing. It is also treated with a water repellent coating which should extend the life of this product.
This lanyard should be used when the operative is working from a static position, connected to a fixed anchor point. If movement between anchorages is required, a twin leg lanyard should be used to provide constant protection.
Accredited to: EN 354 and EN 355
Web material: 32mm "soft Edge" cut resistant polyester web.
Fittings: Rgk12, 70mm delta Link
Weight: 0.4kg
Features: Fitted with shock absorber pack.
max Arrest Force: < 6kN
HIRE THIS PRODUCT