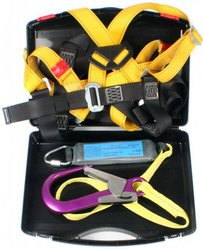 Scaffolders Harness Kit

Ridgegears range of height safety kits are designed for multiple applications.
Each complete kit consists of a full body harness, a shock absorbing lanyard or restraint lanyard ( or fall arrest system - RGHK3 ) and the connectors you require to ensure safe working at height conditions at all times.
Every Kit can be supplied either in a Strong Case or a range of bags including pump bag, or a Top quality rucksack, making it easy to keep all your height safety equipment close at hand and in one place!
This is our Top of the Range Kit and addresses most height safety situations, All in one Box!!
This complete harness safety kit comprises of our famous RGH2 Front & Rear "D" Harness a RGL1 1.8m Lanyard complete with a RGK11 Lightweight Karabiner a RGK26/1 Anchorage sling and a RGA1 2.5metre Fall arrest block.
Accredited to: EN 361 EN 354 and EN 355
Weight: 1.15kg (harness only)
Features: Front and Rear attachment points, Rip stitch indicators, Light weight.
HIRE THIS PRODUCT