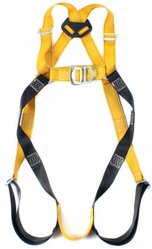 Front & Rear Dee Harness

The RGH2 harness is the "workhorse" of the industry. The harness is fitted with a rear dee and a chest mounted front dee. Utilising the front dee, the harness can be fitted with a rope and grab system for vertical fall protection when an operative is making repeated ascents or similarly, when restraint/work-positioning is needed in either the vertical or horizontal plane.
The harness is fully adjustable and is fitted with rip stitch indicators. The ring connection between the chest and the shoulder straps ensure no stress loading when force is applied to the front dee ring.
Accredited to: EN 361
Web material: 45mm water repellent polyester.
Fittings: High tensile steel alloy and st/steel
Weight: 1.20kg
Features: Rear and front attachment point, rip stitch indicators
HIRE THIS PRODUCT