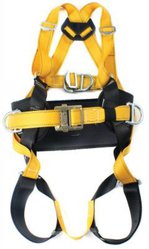 Front & Rear Dee Harness C/W Side Dee's

This comfortable harness is designed for operatives who spend a lot of time working at height and in exposed areas.
The RGH4 includes all of the features of the RGH1-3 harnesses. The RGH4 is a "multi task" harness and will allow operatives to access almost any area in safety, using a combination of the Ridgegear products available. As with the RGH2, this harness is suitable for use in performing rescues from height
using the RGR4 rope rescue kit.
As with the RGH3, the wide belt fitted to the RGH4 is comfortable and provides lumbar support to the operative.
The harness is fully adjustable and is fitted with rip stitch indicators. the ring connection between the chest and the shoulder straps ensure no stress loading when
force is applied to the front D ring.
Accredited to: EN 361 and EN 358
Web material: 45mm water repellent polyester.
Fittings: High tensile steel alloy
Weight: 1.90kg
Features: Front, rear and side attachment points, rip stitch indicators, gear loops
HIRE THIS PRODUCT