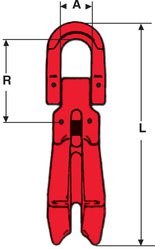 Crosby KUPLEX KSCN Shortening Clutch - New Style

This unique component for leg length adjustment is a major feature of the Crosby KUPLEX system. It caters for loads of irregular shape or for a general lack of headroom and allows safe leg length adjustment of any number of legs with the load remaining fully in line.
All Crosby KUPLEX components have strength characteristics that exceed those of the chain with which they are to be used.
HIRE THIS PRODUCT