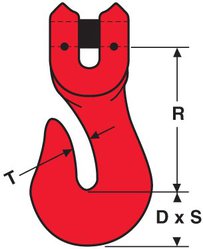 Crosby KUPLEX KG Grab Hook

The narrow throat is intended to engage one link of chain. The preferred use is in lashing chain and similar assemblies. It is not suitable for slinging applications and should never be used for shortening sling legs.
All Crosby KUPLEX components have strength characteristics that exceed those of the chain with which they are to be used.
HIRE THIS PRODUCT