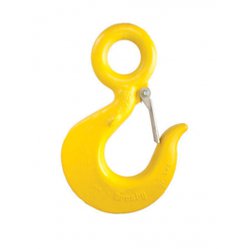 L-320R - ROV Eye Hook

L-320R - ROV Eye Hook
L-320R - ROV Eye Hook
Hook identification code stamped onto each hook
Quenched and tempered
Fluorescent yellow for high visibility subsea
Tip extension allows for easy handling
Heavy duty stamped latch interlocks with the hook tip
High cycle, long life spring
Pad eyes are provided on either side of the hook as cable guides. The cable is passed through a hole drilled in the latch that assists in allowing the "remotely operated" cable to open latch
Cables and drilled latches can be provided and fitted by The Rigging House. The latch can be modified as required for the task.
HIRE THIS PRODUCT