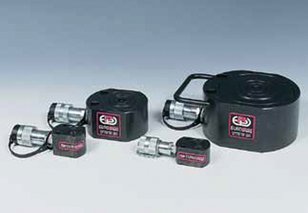 Extra Flat Spring Return Cylinders

Extra Flat Cylinders, Spring Return The CMC range of cylinders have grooves machined into the rod end to improve load grip, models over 20 tonne also have two threaded holes in the rod end to facilliatate the fitting of a tilt saddle.
All models have two through holes to allow for the cylinder to be bolted down onto a work surface; flat sides also allow them to be used horizontally. Models over 5 tonne are fitted with a wiper seal and from 75 tonne onwards they are fitted with a removeable carry handle.
The CMC5N6 model is supplied with a K71F coupler (1/4" NPT connection).
Operational Areas
These extra compact lightweight cylinders are the ideal solution to operate in the narrowest working areas.
They are used to precision level machinery, transformers, bridge sections etc. and in the ship building industry can be used to raise engines into position and remove propellers.
HIRE THIS PRODUCT