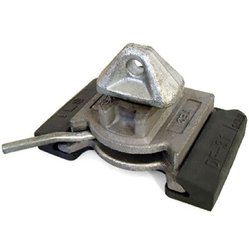 Dovetail Twistlocks & Foundations

45° sliding longitudinal dovetail twist locks and deck weldable foundations for safe and easy securing of bottom containers to hatch covers and in holds where a raised socket could cause an obstruction.
The dovetail twist lock is manufactured from cast and forged steel and is hot dip galvanised.
The single dovetail twistlock foundation is made from cast steel and finished with weldable primer.
Features and Benefits:
Easy to use
Low profile twistlock foundations • Hot dip galvanised
Right to left locking Minimum Breaking Loads
Tension - 500 kN
Shear 420 kN Twistlock Weight: 6.8kg Socket/Foundation Weight: 4.15kg
HIRE THIS PRODUCT