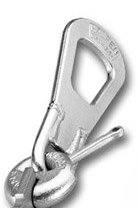 FRIMEDA Lifting Rings

FRIMEDA offers a proven, safe,robust and economical system for the transport and installation of prefabricated concrete components.
The system is easy to use, and with the large range of anchors available, it can be adapted for almost all transport and lifting applications.
The FRIMEDA ring clutch consists of a shackle and a clutch head. A locking bolt is incorporated into the clutch head; this bolt fastens to the anchor. The shackle is free to move in any direction.
HIRE THIS PRODUCT