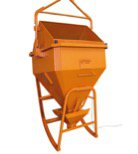 Concrete Skips

Eichinger concrete skips are rugged and heavy duty, and feature a patented discharge gate. They are available in a wide variety of shapes and capacities, and can have many optional fixtures and fittings added to accomplish any task within any area.
Capacity:
Available Shapes:
Available Outlets:
Bottom Discharge
Flexible Pipe
Side Chute
Lateral
Optional Extras (Not Available On All Shapes/Types):
Hook(s)
Lug(s)
Bar or Traverse
Welded-On Chain
Handwheel
Forklift Brackets
Hydraulic Lever Operation
Lift Beam
Also available, are rope skips, man riding skips, radio control skips, roll over skips and twin flow skips.
Contact us to discuss your individual needs and requirements.
HIRE THIS PRODUCT