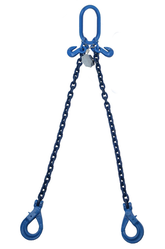 Grade 100 Chain Slings

All our chain slings are made up in house so we carry massive stock levels of all components; we do this so we can make up any chain sling combination the same day. please call our office to enquire.
All combinations of chain slings are available for purchase or hire. please enquire for the various end terminations for chain slings.
Tusk offers both grade 80 and grade 100 chain sling systems.
HIRE THIS PRODUCT