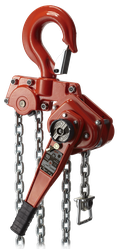 Professional Lever Hoist

Lightweight, compact and rugged construction with the handle, gear case and brake cover made entirely of pressed steel, producing strong resistance to impact damage. Using only the highest quality materials precisely machined throughout ensures the PROLH is the ideal hoist for long term use with less maintenance and servicing costs. These units meet and exceed all the requirements within BS EN 13157:2004+A1:2009, ANSI/ASME B30.21-2005, AS1418.2 and SANS 1636.
The PROLH model comes equipped with our own unique dual brake mechanism that automatically engages when the lever hoist feels the slightest resistance on the bottom hook. This key feature means that the PROLH will raise, hold, and lower the lightest of loads without slipping, and protects against accidental light load failures caused by putting the hoist into neutral whilst under load.
Main Features
Now available with slipping clutch overload protection
New twin pawl ratchet brake design allows for very fine adjustments on the lifting handle
Each hoist is individually proof tested at 1.5 times the rated capacity
Individual spares readily available
Finished in high quality powder coat paint offering excellent corrosion protection
Meets or exceeds all international standards
Range 750kg - 10.0t
Light load tested and certified at 2% of the rated capacity
Using only the highest quality alloy calibrated load chains according to EN 818-7 and ISO 16872
Operating temperature of -50°C to +50°C
Can be chained up to meet your exact requirements
Equipped with our unique dual brake mechanism
Adaptable to use both inverted and horizontally
Lightweight and portable
All major parts are heat treated and precisely machined
Also available with stainless steel load chain or spark resistant hooks
HIRE THIS PRODUCT