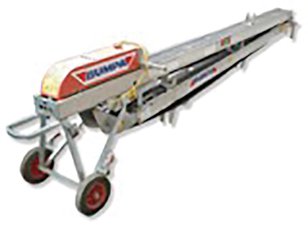 Bumpa Hoists

The Bumpa loading machine uses a continuous action which makes the loading of tiles and other materials much more efficient. Loading heavy goods to roof height is now quick and easy. The bumpa can be used for single storey to three storey buildings.
The Bumpa is also quick to erect, and can be up and running within four minutes. It is capable of moving 1000 tiles in under 25 minutes. It also features a powered reverse to transport valuable salvage to the ground easily and safely.
Available in 6m, 8m or 10m, the Bumpa also comes powered by either a 110v electric motor or a Honda petrol engine. Weighing in as little as 89kg, the Bumpa is easily manoeuvrable by two people, even on the most difficult of sites.
HIRE THIS PRODUCT